Windows Password Reset Enterprise Guide
-How to reset windows domain administrator password with software
Summary:
This Windows Server Password Reset guide shows how to use Vodusoft Windows Password Reset Enterprise edition to reset domain (active directory) administrator password for Windows Server 2000/2003/2008, which is useful when forget Windows Server administrator password.
Tips: If want to reset windows 7/vista/xp/2000/2003/2008/2012 local user password with this edition, please refer to Windows Password Reset Standard Guide.
Tips: This is also the user guide for using Vodusoft Windows Password Reset Special to reset windows server 2000/2003/2008 domain administrator password.
To reset windows server domain user password, get Windows Password Reset Enterprise and install it in an accessible windows.
Step by Step guide to reset Windows Server 2000/2003/2008/2012 domain administrator password
Step 1: Launch Vodusoft Windows Password Enterprise Standard. Tips: In Windows 7 and Vista, you have better to run this program as Administrator.
Step 2: Create a windows password reset boot disk.
To create USB password reset disk: Choose USB device,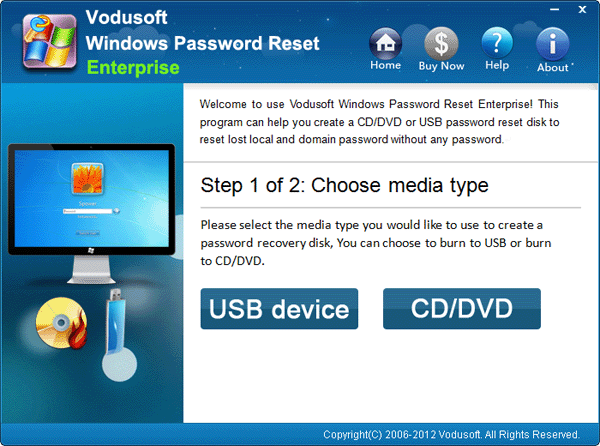 And then insert USB flash drive and click "Begin Burning" button to create a USB windows password reset disk.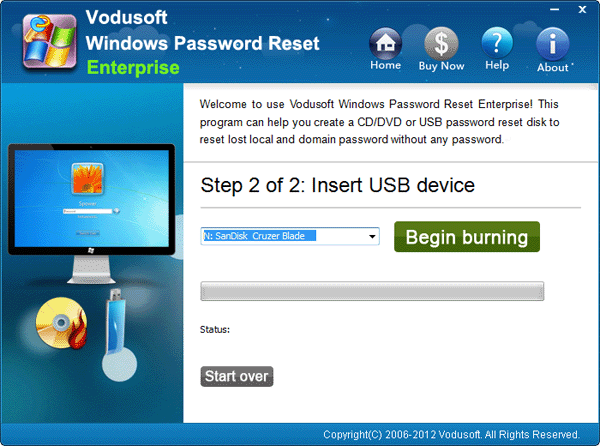 To create CD/DVD password reset disk: Choose CD/DVD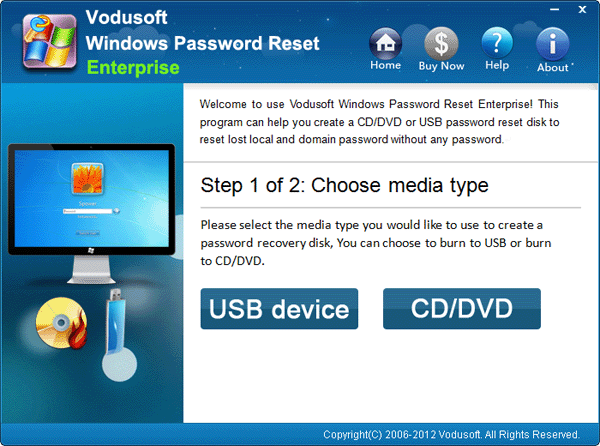 And then insert blank CD/DVD disc and click "Begin burning" button to burn the program to the disk.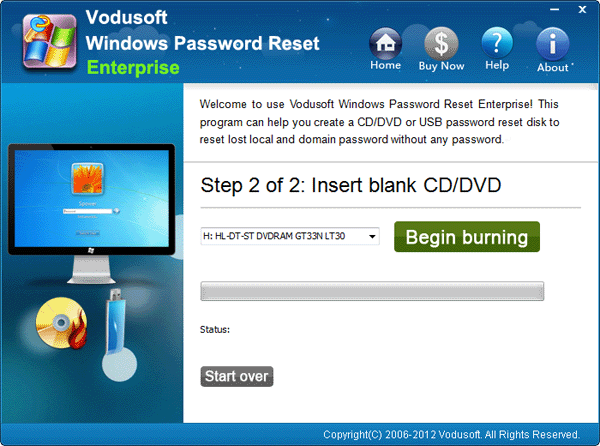 Step 3: Insert Windows Password Reset boot disk to the locked computer, and restart computer. Note: You must set the locked computer to boot from USB flash drive or CD/DVD-ROM before restart computer to boot from password boot disk. See How to set computer to boot from USB drive, or How to set computer to boot from CD/DVD-ROM.
Step 4: When Vodusoft password reset program starts, select the administrator user, and then click the "Reset" button to reset a new password to administrator user.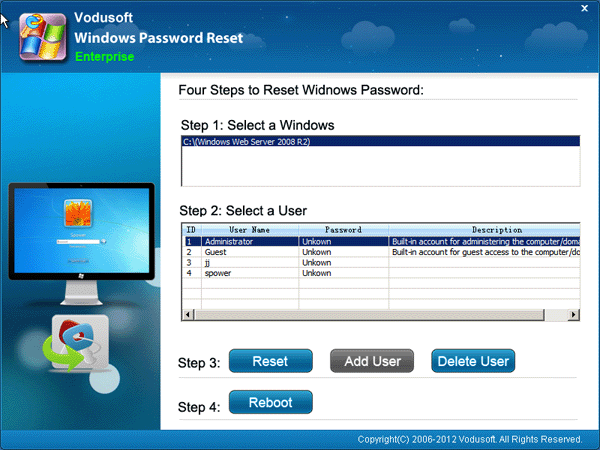 Step 5: Click "Reboot" button to reboot server computer and login windows server with new password.
---