Windows 8 Forgot Password Recovery
"I forgot my Windows 8 password, and locked out of the windows. I have tried all of the possible passwords that the password hint reminded me. But I keep getting the rejection message 'The password is incorrect. Try again'. Now I want to reset my windows password, but when I click on OK and click on Reset Password, I got the message 'This feature requires removable media, such as a USB flash drive. "
Do not remember windows 8 password? And want to reset windows 8 password? It is usual to forget windows log on password after a long time do not use the password to log into the computer. Creating a windows 8 password reset disk before you have forgotten your windows 8 computer password is a very good idea, because resetting password with a password reset disk is the most simply and fastest way. But in fact, most of the people did not create a password reset disk before they forgot the password. Don't worry, there are still several methods to recover windows 8 password efficiently and safely.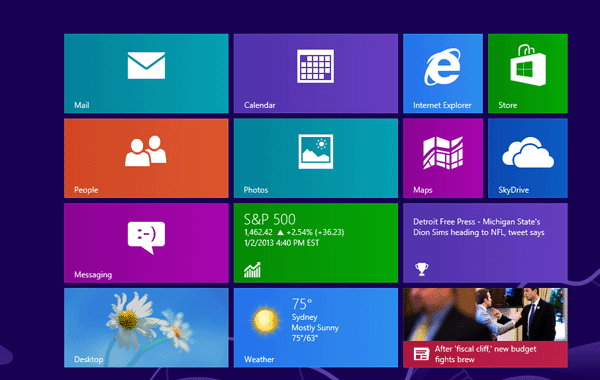 1. Recover Windows 8 forgot password with password reset program
If you are urgent to get data from your pc when you lost windows 8 password and are locked out of windows, and unfortunately do not create a windows 8 password reset disk before, you can create a Vodusoft password reset disk to recover windows 8 password safely and quickly.
. Create a password reset disk with Vodusoft password reset tool.
Step 1: Get down Vodusoft Windows password reset software, and install it in another accessible PC. 
Step 2: Insert a removable device such as USB and launch Vodusoft Windows Password Reset program.
Step 3: Select the USB device you just insert and click on Burn to USB. When the prompt message pups up, click on yes to continue the progress.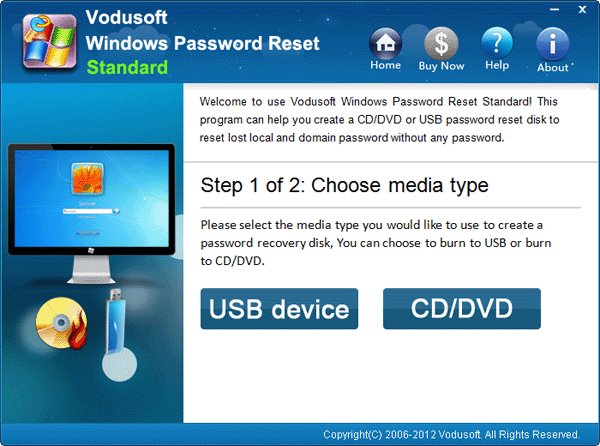 Step 4: When burning successfully, click on OK and close the program. 
Tips: If you use a CD/DVD to create a password reset disk, select the CD/DVD device and click on Burn to CD/DVD. 
. Set Windows 8 computer to boot from Vodusoft password reset disk.
Step 5: Take the USB password reset disk and insert it in the locked computer.
Step 6: Restart the locked computer, and press the BIOS Entry Key repeatedly as soon until the BIOS Utility setup screen appears.
Step 7: Use the arrow key to select the Boot Menu, and set the USB device to the first boot list, and then click on the appropriate keys to save the change and set the computer to boot from the USB flash drive.
. Recover windows 8 password following the Vodusoft Windows password reset wizard.
Step 8: Select the system on your computer and the user name whose password you want to reset, click on Reset, and then click on Yes to set the user password to blank.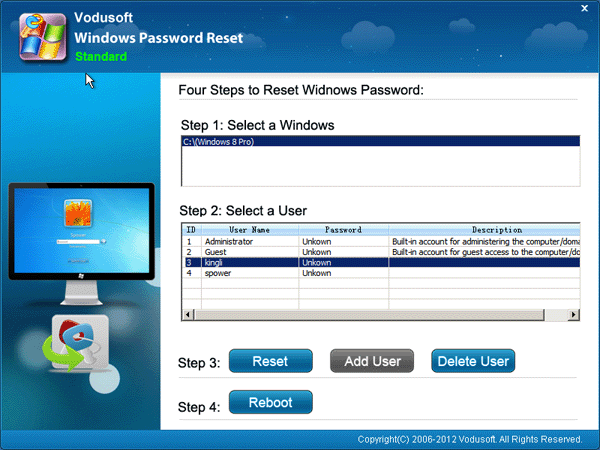 Step9: Click on Reboot, when the prompt message appears, unplug the USB flash driver, and click on Yes to restart windows log on screen. Then you can click on the user on the logon screen to get in to windows without password.
2. Recover Windows 8 forgot password via Command Prompt
Can still logon windows with other user accounts such as PIN account or picture account who has administrator privilege and familiar with the Net User Command? You also can choose this method to reset windows 8 password simply and quickly.
Step1: Point to the Start button on the bottom-left corner, click on Command Prompt to launch it.  
Step2: On the Command Prompt, type in: Net User <user name> <new password> to reset a new password. If you want to remove the windows 8 password, let the new password blank.
Related Articles: