I forgot my windows 7 password on my laptop?
I forgot my windows 7 password on my Dell laptop and I have been searching for ways to unlock it to keep from having to restore my laptop because I would prefer not to lose all of my information on my computer. I downloaded Offline NT Password & Registry Editor, hoping to be able to get into my computer again. I followed the instructions to access it by downloading the program onto a USB stick and I also tried burning a disc. It allowed me to go in to reset & reboot but once I rebooted my system, I still had the same issue and I was unable to get into my computer. I want to get onto my computer urgently. Any help would be very highly appreciated. - Question from microsoft msdn community.

Are you the one is being bothered by your windows 7 password issue? Actually, you do not need to be annoyed at tall when forgot windows 7 password. Many methods can help you recover your login password. By the way, these methods are easy to carry out, and you do not need any professional computer knowledage.
1. Forgot Windows 7 Password - Reset with self-created reset disk
If you have create a windows 7 password reset disk before forgetting login password, it will be the best password recovery tool to reset the forgotten password. Also, you can create a third party password reset disk with third party password recovery software when forget login password. The method 2 will explain how to achieve that.
On logon screen, when you attempt to lgon with wrong password, you will receive an errror message which prompt the user name or password is not rgiht. Click "OK" to close this error message, and you will see a text button "Reset Password...". Click "Reset Password" to start password reset wizard. OKay, when the wizard start, what you need to do is follow the step by step guide until to the last step.
2. Forgot Windows 7 Password - Reset with Vodusoft Password Tool
This method will describe how to use third party password recovery tool to create a third party password reset disk, and use it to recover the lost password for windows 7. To carry out this method, you just need a USB flash drive or a blank CD/DVD disc.
Vodusoft Windows Password Reset software is a professional and effective windows password reset tool, which can reset forgotten password for windows 7/vista/xp/2000/2003/2008 without old password in a few minutes.
Download Vodusoft Windows Password Reset software and install it to a windows.
Step 1: Create a Vodusoft Password Reset disk. Starts Vodusoft Password software, insert USB flash drive or CD/DVD disc, and then click "Burn to *" button to burn Vodusoft program to the disk.
To create USB password reset disk, click "Burn to USB" button.
To create CD/DVD password reset disk, click "Burn to CD/DVD" button.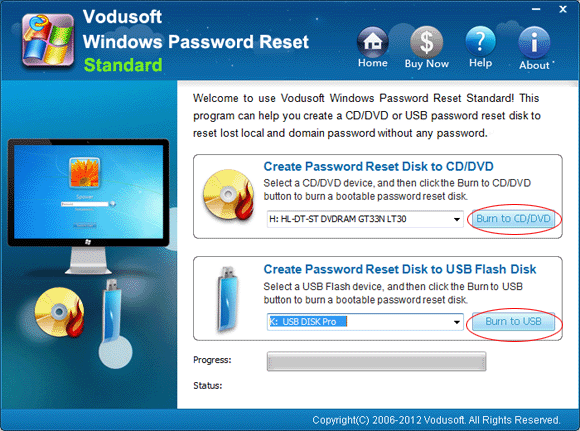 Step 2: Set the locked windows 7 compouter to boot from USB drive or CD/DVD-ROM. If have difficult in setting your computer to boot from USB or CD/DVD drive, you can refer to the following article for step by step guide.
Step 3: Insert Vodusoft Password Reset disk to the locked computer, and restart it.
Step 4: Reset new password to windows 7 user.
When Vodusoft Password software starts, select a windows user, and click the "Reset" Button to reset a new password to it.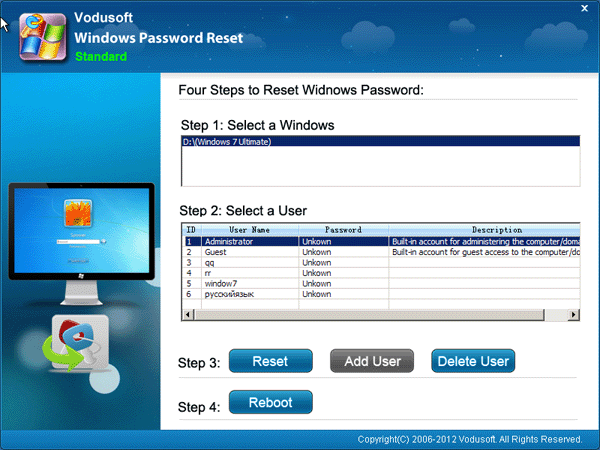 Step 5: Click "Reboot" button to restart the locked computer, and you can login with new password.
3. Forgot Windows 7 password - Reset with Chntpw
Chntpw is a free and wonderful windows password program, which work fine with windows 7/vista/xp/2000 local password. It is a console base program, so it is not easy to use as GUI Windows password programs. You can use Chntpw to create USB or CD/DVD boot disk to reset the lost password offline. The steps below can give you main instructions to reset windows 7 password with Chntpw.

Step 1: Download Chntpw from this link: http://pogostick.net/~pnh/ntpasswd/cd110511.zip
Step 2: Create a Chntpw boot disk. To create a CD/DVD boot disk, you need to use ISO burning software to burn the Chntpw live cd to the disc.
Step 3: Boot the locked computer from Chntpw boot disk.
Step 4: When Chntpw program starts, you will see black-white screen, then you can follow the instructions it shows to remove a user password step by steps.
Step 5: Chntpw will prompt you to select a windows partition, if your computer have one system only, you can keep the default options, and press enter to go to next step.
Step 5: Select operation. Many operations are offered, here just select remove user password.
Step 6: Select a user to remove its password. If you want to remove the password of administrator, keep the default option will be ok.
Step 7: After password removal operation, what you need to do is save changing and exit chntpw.
4. Other solutions to reset windows 7 password when forget
Except the methods mention above, there still many methods can reset windows 7 password, but they may be not as easy as above.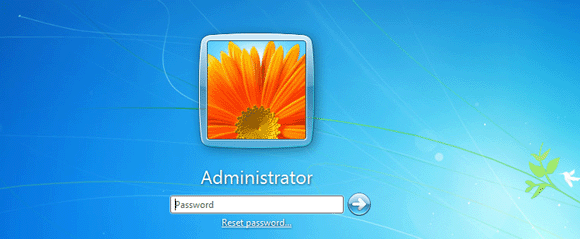 1. Reset windows 7 password with another administrator user. If you can get into windows with a user who has administrator privilege, you can use this method.
2. Reset Windows 7 password with setup cd. With windows 7 setup cd, you can reset windows 7 password via repair mode.
Reference: http://windows.microsoft.com/en-US/windows7/Reset-your-Windows-password
Related Articles: