Forgot Windows 7 home basic login password? And locked out of windows? Don't worry, and don't hurry up to format your hard disk and reinstall your windows. In this article, yo will learn several simple and effective methods to reset the password for your windows.
1. Use windows 7 password reset disk to reset the lost password.
Windows 7 Password reset disk is the easy use password reset tool for recovering windows 7 password. A few clicks can help you get round your lost password.
1. On log on screen, click one use and attempt to login windows.
2. When password error message appears, click "OK" to close it.
3. Click the "Reset password" to start password reset wizard, and you can follow the wizard to reset the password step by step.
If you usually forget your windows 7 login password, it is better to create a password reset disk.
2. Recover windows 7 home basic password with Vodusoft password software
Vodusoft Windows password Reset is effective and reliable password recovery software designed for reset lost password for windows 7 and other windows without any old password. With the built-in burning feature, this software can help to create a USB or CD/DVD windows password reset boot disk easily. What you need is a writable USB flash drive or CD/DVD disc.
Steps to use Vodusoft Windows Password:
Step 1: Get Vodusoft Windows 7 Password Reset Software and install it windows.
Step 2: Create a Vodusoft windows 7 password recovery disk. Insert USB flash disk or blank CD/DVD disc, and then click "Burn to USB" or "Burn to CD/DVD" to create a password recovery disk.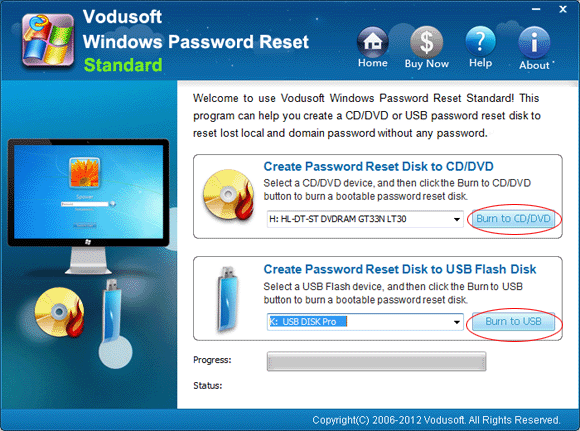 Step 3: Set the locked windows 7 computer to boot from USB or CD-ROM.
Step 4: Insert Vodusoft windows 7 password recovery disk to the locked computer, and restart it to boot from password recovery disk.
Step 5: When Vodusoft password program starts, select a user account, and click the "Reset" button to set a new password for it.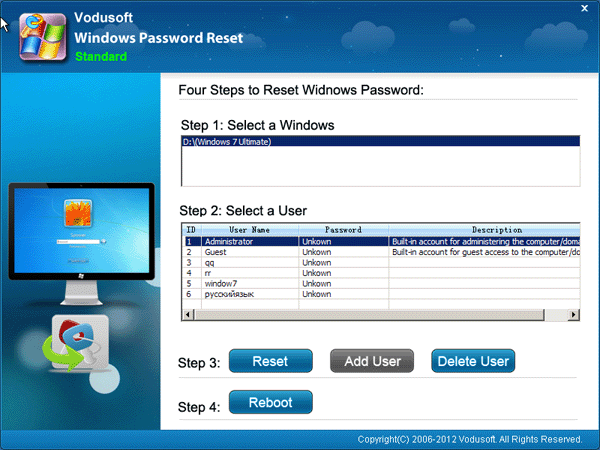 Step 6: Click "Reboot" to restart computer, and login with new password.
Tags: Windows 7 home basic password reset
Related Articles: