Want to login windows 8 automatically? Forgot Windows 8 password and locked out of windows 8? The best way is to remove windows 8 password to let it blank, then the next time when you start your windows 8 computer to log on screen, you just need to click on your user account, and it will logon in automatically.
How to remove windows 8 password? There are many methods for you to choose, take the best one to carry out according to your different occasions. 
Three ways to remove windows 8 password:
1. Remove windows 8 password through shortcut key
A complex password may be very difficult for you to remember, and it is usual to forget that will cause a lot of problem. And I think it is a troublesome thing to type in password every time we logon windows. Why not remove the password if we have no important data in our computer in order to let our windows login automatically? Simple steps just below:
 Press on "Ctrl+Alt+Delete" and select Change a password, then the Change a password wizard below will appear.
Type in the Old password, and then let the New password blank to remove password.
 Click on the next button to save the change, then you can receive the message "Password has been change successfully".
2.Remove windows 8 password via log in with PIN code.
Forgot windows 8 system password? If you still can log into windows 8 with PIN code or picture password, get into your computer and then remove windows 8 password simply and fast through Net User Command.
First, press Windows
+ X to open Start Menu, and then click on Command Prompt (Admin).
Next, on the Command Prompt Type in: Net User <user name> "" to remove windows 8 password.
Tips: Please remember to let the password blank, and the <user name> is your account name which one you want to remove password.
3.Remove windows 8 password with password reset disk
Forgot password and locked out of windows 8? If the methods above do not work for you, don't disappoint, you can still remove windows 8 password with windows 8 password recovery disk efficiently and safely.
If you have created a windows 8 password reset disk before, then you can use it to remove windows 8 password quickly. If not, you can create a Vodusoft windows password reset disk right now and use it to reset windows 8 password.
 Download Vodusoft Windows password reset software, install it and launch it in another accessible PC.
Vodusoft Windows password reset standard trial version free download
Insert a USB or CD, and choose USB Device or CD/DVD, and then click Begin Burning to create a windows bootable disk.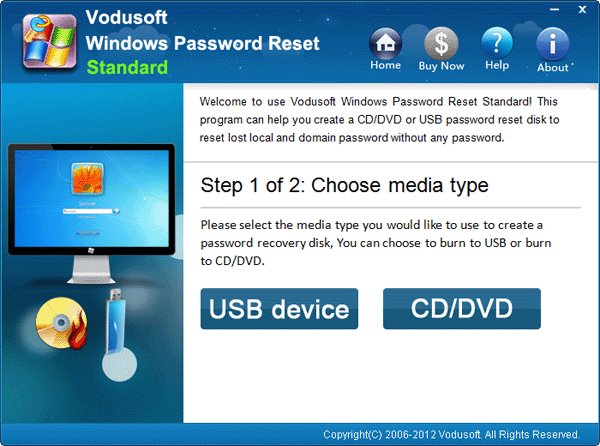 Take out the bootable password reset dick and insert into the locked computer that you want to remove password.
 Restart the locked computer, and set the computer to boot from password reset disk.
Select the Windows 8 System and the user account name, click on Reset, when the message box pups up, click on Yes. Click on Reboot and unplug the removable device when the prompt message appears, and then click on Yes to restart your windows 8 computer.
Remove Windows 8 password with software video


Related Articles: