Locked out of your computer that installed with Windows 8? And are frustrated to find ways to unlock windows 8 password? This document will show you two effective methods to recover windows 8 forgot password.
Windows 8 is a very secure system with windows 8 Picture password, because the picture password is very easy for users to remember but difficult for others to guess. If you forgot your windows 8 classic system password, you can login windows 8 with PIN code or picture password to change the password easily.
However if you also can't get into computer with the methods above, and do not want to reinstall windows 8 system, you can use windows 8 password recovery usb.
Example1: Unlock Windows 8 password with windows 8 password reset disk.
Don't forget to create a windows 8 password reset disk, when you create a password on your windows 8 system. This is a good method to prevent locking out of computer when you forget password.
Steps how to unlock windows 8 password with password reset disk:
<1>. Lunch your windows 8 pc to the logon screen, press Enter directory to set up the password incorrect hint.
<2>. When the hint appears, click on Ok to close it, you can see the Reset password link below the password text box.
<3>. Click on the Reset password … link, insert the Windows 8 password reset disk into the locked computer, and select the removable device, click on Next to continue.
<4>. Type in the new password on the password text box and click on Next.
<5>. When finish the operation following the Wizard, Click on Finish, and then you can log into windows 8 computer with new password.
Example2: Unlock Windows 8 password with Vodusoft Windows 8 password recovery usb.
Haven't created a password reset disk yet? It doesn't matter, Vodusoft Windows password reset tool can help you to create a windows 8 password reset disc with a USB flash drive.
Here are the steps how to use Vodusoft Windows 8 Password Reset.
<1>. Download Vodusoft Windows Password Reset software and install it in an accessible pc.
<2>. Insert a usb and run the program click Burn to USB to create a bootable usb drive.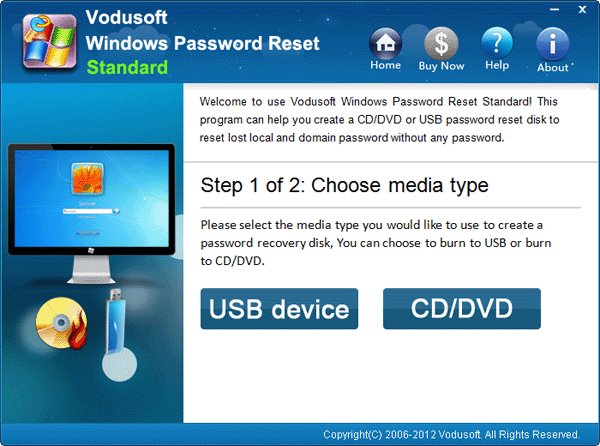 <3>. Take the USB insert to the locked pc, and restart it.
<4>. Press the locked computer to boot from USB.
<5>. When Vodusoft Password Reset Wizard set up, select Windows 8 and your user account, and then click on Reset, unplug usb, click on Reboot.
Related articles: