Lost/forgot password on Windows Vista home premium? And are finding ways to recover Vista password from your computer? This article will show you effective methods how to reset password on Windows Vista home premium.
1. Reset password on Windows Vista home premium via Command Prompt
Get to computer logon screen to have a look whether you still can get into your computer or laptop with other user account who has administrator privilege or not. If you still can get into the mating, you can use net user command to change windows vista home premium password event if you do not remember the current password.
Step1: Get into computer, on the Start menu, click on Command Prompt
Step2: On the Command Prompt, type in: Net User <user name> <new password> and then press Enter.
2. Recover forgot password on Windows Vista home premium through Computer Management
If you do not familiar with the net user command, you can use computer manage to change password forcedly. Pay attention to the hint during change password, it would cause data lose on some case
Step1: Log into computer, on the Start menu, right click on Computer, select Manage.
Step2: Expand Computer Management to the Users, double click on users.
Step3: On the user list, select a user account, right click on it, select Set password…, then the change password screen will appear.
3. Unlock Windows Vista computer with Windows Vista password recovery disk
Forgot windows vista admin password? If you have created a windows Vista password reset disk, it would be very easy and simple for you to recover password.
Step1: Start computer to the log on screen, press enter directory to set up the password incorrect hint.
Step2: Click on OK to close the message, click on Reset password… below the password text box.
Step3: Insert password reset disk and follow the password reset wizard to finish the instruction.
4. Hack Windows Vista home premium forgot password with free password program
Locked out of your windows? And did not create a Windows Vista home premium password reset disk?  And do not want to buy a password reset software, you can take a free program to have a try. NT Password and Registry Edition is a free password reset program that based on console text command.
Step1: Get down NT Password and Registry Editor, and install it on an accessible pc.
Step2: Use a removable device to create a bootable disc with that program.
Step3: Set the locked computer to boot with the bootable disc, and follow the instructions to finish every step.
5. Reset forgot password on Windows Vista home premium with Vodusoft password reset tool
The methods above do not work for you, don't be disappoint, take Vodusoft Windows password reset soft to have a try. Vodusoft Password program is effective and 100% save, and would not cause danger to any data.
Detail Steps to use Vodusoft password reset program:
Step1: Down load Vodusoft Windows Vista password reset from an accessible pc, and install it.
Download windows Vista password reset tool free trial
Step2: Insert a removable store device to create a password reset file on it.
2.1 Insert the device and run Vodusoft program
2.2 select the device and click on Burn to USB or Burn to CD/DVD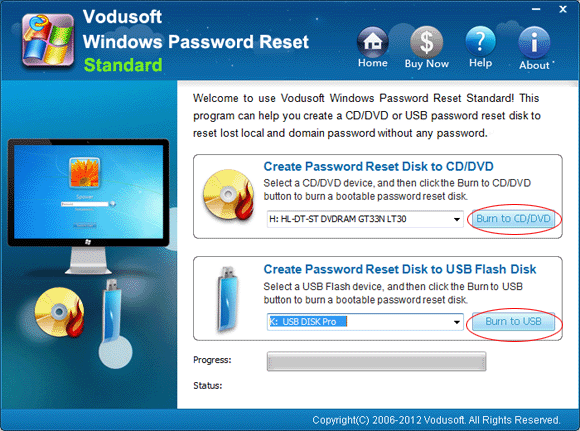 Step3: Take the removable device insert into the locked computer and set it to boot.
3.1When start the computer press BIOS Entry Key immediately and repeatedly until BIOS screen sets up.
3.2 Adjust the Boot setting, set it to boot from the Removable device.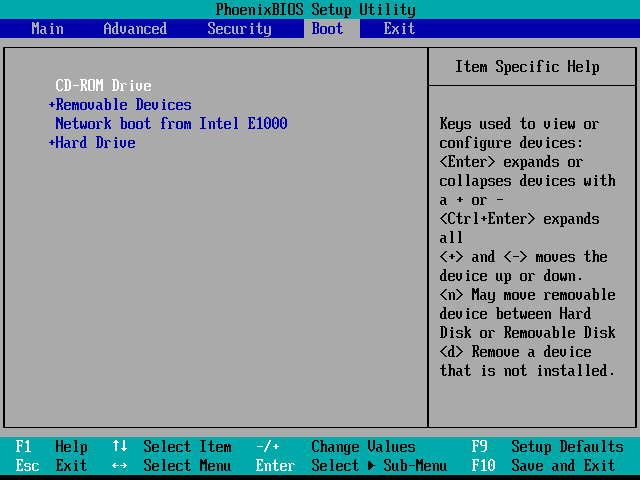 Step4: When the Vodusoft password reset program set up, follow the steps on it to finish the instruction.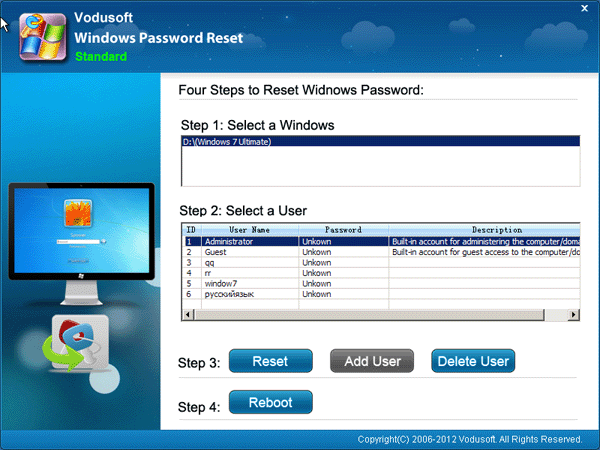 Step5: When get to the log on screen, get into pc without password.
Related articles: