"My classmate installed a Windows Vista System on her HP laptop, and set a password on the log on screen that prevents others from accessing. However, unluckily, she forgot the password what she set and forgot to create a password reset disk. The only user account is admin account that she lost password. Now she wants to remove the password for her admin account on windows Vista, and get into computer with blank password. How to recover or remove the Windows Vista admin password on the HP laptop? Thanks for reply!" –Ask by Judy.
Forgot Windows Vista admin password? That would be very frustrated for you to get into this problem, especially when you have the only one admin user account, and did not create a Windows Vista password reset disk. If you met the same problem, you can take password reset program to have a try.
Example1: Recover Windows Vista admin password with NT password and registry editor
The NT Password and Registry Editor is a free password reset program that can be used for windows XP, Vista, 7, 8, 2000, 2003, 2008 etc local user password. It is a console program that is operated by text command, so, if it is difficult for you to carry out, you can choose the Vodusoft program below, which has a good user interface.
The detail steps how to use NT Password and Registry Editor:
1. Get down NT Password and Registry Editor from: http://pogostick.net/~pnh/ntpasswd
2. Create a bootable cd drive with the NT program.
3. Set the locked computer to boot from the CD drive.
4. When the NT program starts, follow the instructions to remove user password.
5. When remove password successfully, unplug the live cd and restart your pc.

Example2: Recover Windows Vista admin password with Vodusoft password reset software
Vodusoft Windows Password Reset is a reliable and effective password recovery tool, which can help you reset Windows Vista, XP, 2000, 2003, 7, 8, 2008 local and domain user password.
Steps to use Vodusoft Windows Password Reset:
1. Download Vodusoft Windows Password Reset  on an accessible pc and install it.
Download Windows Vista password reset software free trial
2. Take a removable device such as USB or CD and insert into the pc
3. Run the Vodusoft program, select a removable device, and then Burn to USB or
Burn to CD/DVD to create a password reset disk.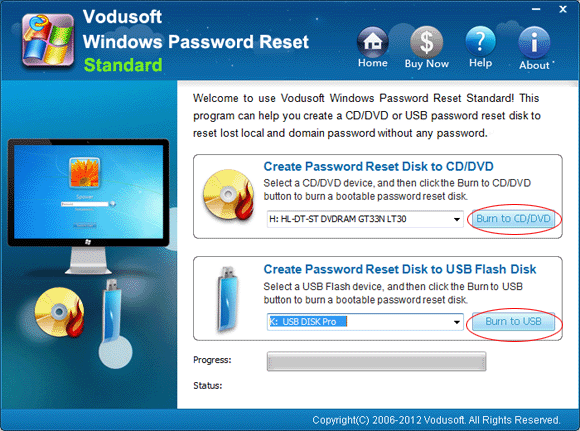 4. Get the password reset disk insert into the locked computer, and then set the computer to boot from BIOS with the password disc.
5. When the Vodusoft password reset wizard appears, follow the instruction to finish the operation.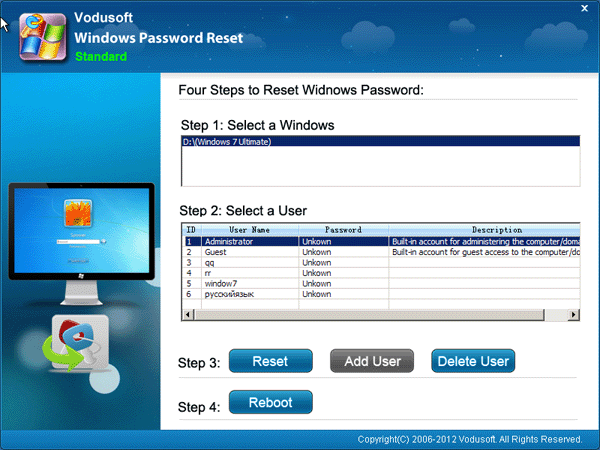 Related articles: