Forgot Excel 2000, 2003, 2007, 2010 or 2013 Spreadsheet password for a file? I forgot my Excel 2007 workbook protected password too before, here I am glad to share with you my experience how to open Excel file if password is forgotten.
Steps how do I open my password protected excel file:
Get Vodusoft Excel password recovery program and install it on your computer.
Vodusoft Excel password recovery trial version free download
 Launch password recovery program, click Open to select your excel password forgotten file.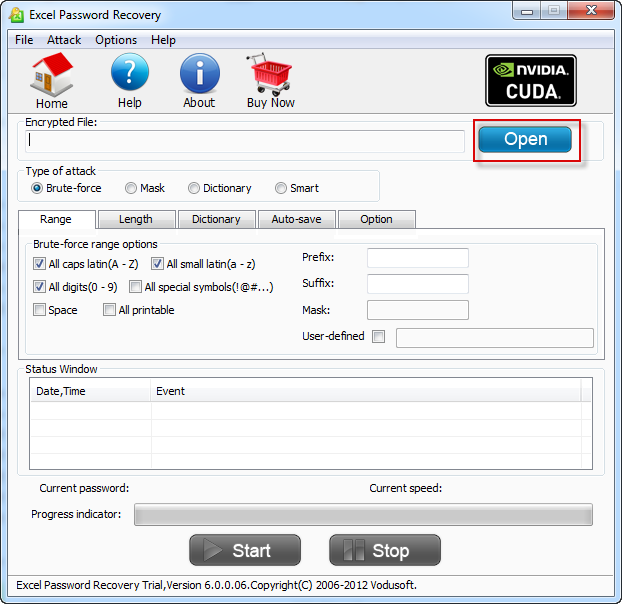 Choose a password Attack Mode.
There are Brute-force, Mask, Dictionary, Smart attack modes for you to choose.
If you still remember part of the password, combine the Brute-force attack mode with the Mask attack mode. It will shorten much time on the process to recover password for you if part of the password is specify.
Adjust the attack settings according to your password situation.
. 4.1 Select Brute-force, select character range options. Click Length to specify the Minimal and Maximal password length.
. 4.2 Select Mask, specify password on the Mask text box.
For example, if your password is vodusoft, and you forgot the last four characters, you can specify the password like "vodu????", replace the forgotten character with "?".
Click Start to begin to recover excel spreadsheet file forgot password.
When the password is found out, it will show out for you, Copy it to Open the protect excel file with the password.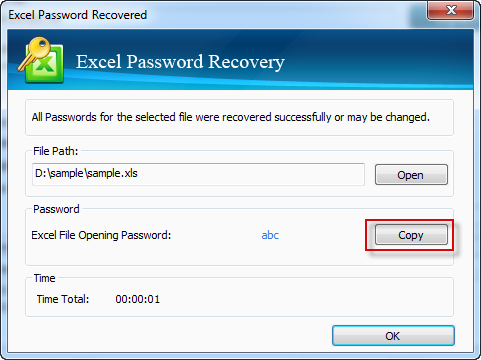 I see many similar questions, like "I forgot my Excel sheet protection password, how to open a protected excel file without the password?"
As a matter of fact, if you have created a password on the excel sheet, you can't open it without password, unless you remove the password from it. However, it is difficult to remove password from Excel 2007, 2010, 2013 without knowing password.
Related article: