Locked out of your DELL laptop because you forgot or lost the login password? And are you searching methods to unlock DELL laptop forgot password? Be patient, this article will show you the methods.
Method 1: Unlock DELL laptop forgot password with windows password reset disk.
If you are locked out of laptop forgot password, you can't get into your laptop to reset password via command prompt or computer management. If you have created a windows password reset disk on your laptop before you forgot password, you can use it to reset forgotten password simply and easily.
<1>. Get to the laptop logon screen, type in an incorrect password, and press Enter.
<2>. Click on Reset password… below the password text box.
<3>. When the password reset wizard appears, follow the instructions to finish the operation.
Method 2: Unlock DELL laptop forgot password with a usb or cd
Have not created a password reset disk yet? The method above does not work for you. But you can create a bootable disk with a usb or cd that also can help you to unlock dell laptop quickly.
Steps as below:
Get Vodusoft Windows Password Reset standard and install it in the accessible computer.
Get Vodusoft Windows password reset standard free trial vesion
 Create a password reset boot disk with usb or cd.
2.1 Choose media type, USB device or CD/DVD.
2.2 Click on Begin burning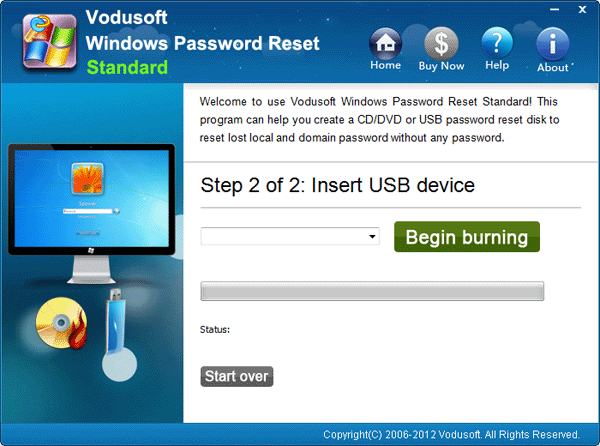 Set your locked laptop to boot from BIOS with the removable device.
3.1 Transfer the bootable device into your locked dell laptop.
3.2 Restart your locked laptop, and press BIOS Entry Key (F2 or Fn+F1) immediately and repeatedly when the power is on until the BIOS screen appears.
 3.3 Move to the Boot option, and set the USB drive or CD-ROM as the first boot device, and then press F10 and Enter to restart dell laptop.
When the vodusoft password reset program starts, select system and a user account and click on Reset.
Click on Reboot, and unplug the removable device, and then click on Yes to restart laptop.
Tips: The Vodusoft Windows Password Reset program can reset windows 7, 8, XP, Vista, 2008 r2 password on DELL laptop efficiently and safely.
The DELL laptop BIOS Entry:
Dell Inspiron, Dell Dimension, Dell Precision, Dell Optiplex, Dell Vostro, Dell XPS – press F2 to get into BIOS screen.
Dell Latitude – press Fn+F1 to get into BIOS screen
Tips: If  need more details about setting laptop to boot from BIOS, can refer to the articles below:
Related article:
People who read this article also like: