Crack Windows 8 Password
"How can Crack Windows 8 Password? My little brother upgraded his windows 7 to window 8 System and change the windows login password, but when he restart to the logon screen and type in the new password to get into computer, he got the rejection 'The password or username is incorrect' I think he got the new password number wrong and do not remember it. And unfortunately, he has not created any PIN code and picture password on his laptop yet, any method to crack the windows 8 password? Would be very appreciated" – Question by Debbie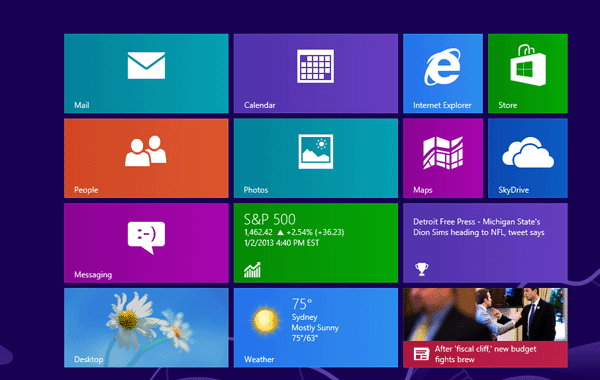 Lost/forgot windows 8 password? And cannot get into your windows 8 computer? Don't worry, you can crack windows 8 password without reinstalling system, you just need to prepare a USB flash drive or CD/DVD blank disc and download a password reset program.
Example1: Crack Windows 8 password with free password crack tool
Chntpw is a free windows password program, which is based on console text screen, therefore, it is not so easy to use as the GUI windows password program.
The steps below show you to use Chntpw to crack/reset windows 8 password:
Step1: Get Chntpw from: http://pogostick.net/~pnh/ntpasswd/cd110511.zip
Step2: Insert cd into the accessible computer and run Chntpw program and use the ISO burning software to burn the Chntpw live cd to a bootable disc.
Step3: Insert the bootable disc to the locked computer and set it to boot.
Step4: When the black-white screen appears, means the Chntpw progam starts, follow the instruction to finish the operation.
Step5: Select a system and select the remove user password function, and then select a user account.
Tips: If you have only one system on the computer and the user account is administrator, you do not need to change the option, keep it by default.
Step6: Save the change and exit, then you can login computer without password.
Example2: Crack Windows 8 password with Vodusoft Windows password reset stander
Vodusoft Windows password Reset is a GUI windows password program, which has a friendly user interface. And the Steps are clearly marked on the screen, and you just need to click on the button to finish the operation.
Follow the steps below to use Vodusoft software to crack windows 8 password.
Step1: Download Vodusoft Windows Password Reset stander on an accessible pc.
Download windows 8 password reset software free trail
Step2: Insert a usb/cd into the pc, and follow the instruction to create a password reset disk. You just need to select the device and click on Burn to USB or Burn to CD/DVD.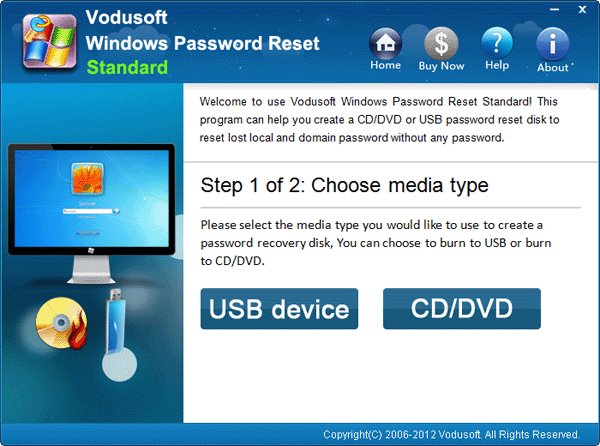 Step3: When burning the password disk successfully, take the disk and insert to the locked computer.
Step4: Restart the locked computer, and press the BIOS Entry Key to get into the BIOS and set pc to boot from the USB or CD device.
Tips: If you have difficult in setting computer to boot from BIOS, refer to the article:
How to set computer to boot from USB
Step5: When the Vodusoft Password Reset program starts, select the windows 8 system and the user account.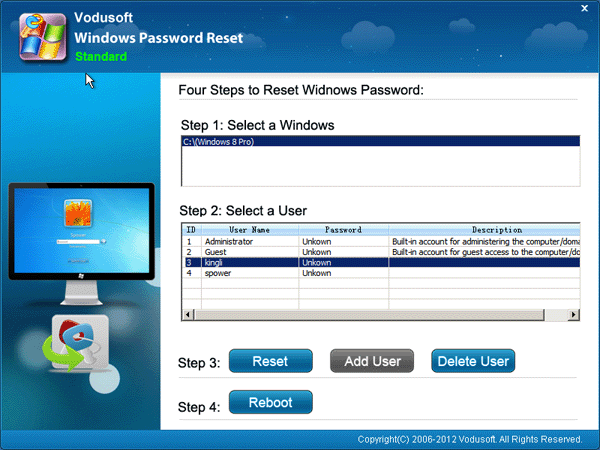 Step6: Click on Reset, take out the password reset disk, and then click on Reboot. If the hint message pups up, you just need to click on OK to continue.
Related articles: